Anan Wildlife Observatory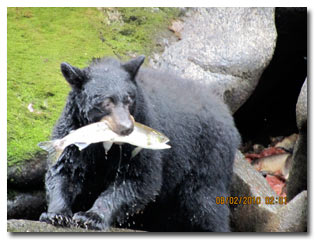 Just a short distance by jet boat, the USFS has established an observatory specifically for bear viewing at Anan Creek. Bears congregate at Anan Creek naturally for feeding. Summit Charters is one of the few tour/guide services licensed to operate in the Anan Wildlife Observatory. Let us take you to this truly unique area. Come with us as we take an hour ride in our heated 28' twin-engine jet boat thru majestic Eastern Passage to the world famous Anan Wildlife Observatory. Wrangell's Eastern Passage is a 30-mile narrow channel separating Wrangell Island from the mainland. Watch the beaches for deer, moose and bear and the water for humpback whales, sea otter, harbor seals or stellar sea lions during our trip to Anan. We disembark from the boat about an hour after departure and are greeted by USFS employees, who will check us in and advise us of the days bear activity. Then we take a 20-30 minute hike via a boardwalk thru the lush rainforest, skirting Anan Bay to the fenced viewing platform. Be sure to sign up for the lower photo blind for a real up close & personal chat with the bears. Anan Bear Observatory boasts 61 different black bears and 8 different brown bears, all feeding on a massive run of pink salmon. The bears do share their catch with dozens of bald eagles, crows and ravens. All to soon it will be time to return to the boat for our return trip with cameras and your memory packed with the visions that make Anan.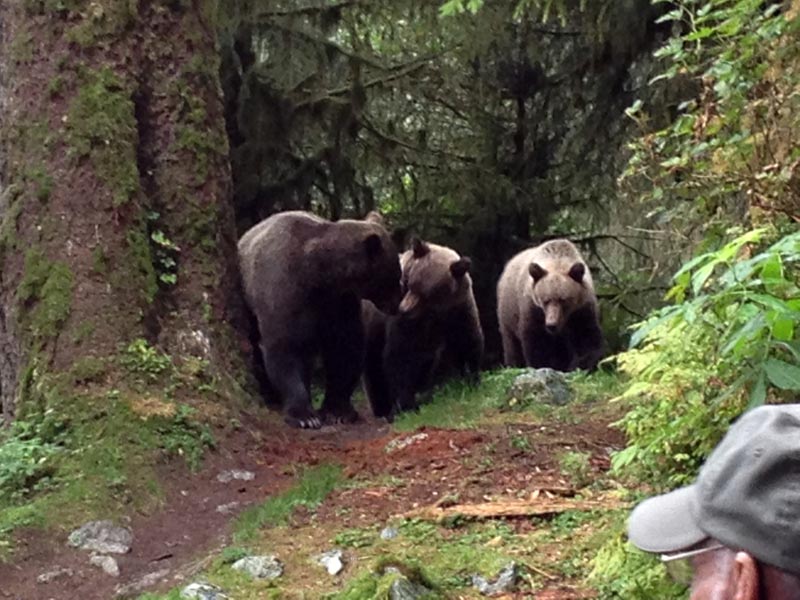 You may click on the image for a larger view,
then click anywhere off the image to close it.
Space is available on a first come first serve basis. Book right away. You will be taken to our secure booking service to select your date and complete the process.
If you want to get your private permit and bring to our office, your private permit can be converted to guided permit giving you the advantage of our local knowledge and years of experience in the area. CLICK HERE to see our slideshow.
Price: $295.00 plus 7% city of Wrangell sales tax. USFS permit included. This is a 4-6 hour trip.
Join us July 2017 for the annual Wrangell Bearfest as we celebrate the bears of Alaska with a weekend of fun and informative activities. More info to follow.
Please call 907-874-2402 or Cell 907-305-0416 if you have any questions about this tour.