The Stikine River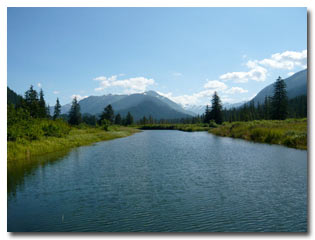 Come travel the Mighty Stikine River with us in our 28' heated twin-engine jet boat. The headwaters of the Stikine River is in British Columbia and flows 400 miles to salt water near Wrangell, Alaska, the "Gateway to the Stikine". Named by the Tlingit Indians, Stikine River means "Great River". The mighty Stikine River is the lifeline flowing through the Stikine LeConte wilderness. The United States Congress designated the Stikine-LeConte Wilderness (map) in 1980 and it now has a total of 448,926 acres. All of this wilderness is located in Alaska and is managed by the Forest Service. It is North America's fastest, free flowing navigable river. The wilderness includes the River's estuary with extensive grasslands and delta mudflats as the river reaches the Pacific Ocean. The Stikine-LeConte Wilderness boasts: Kate's Needle at 10,002 ft- the highest peak on the Tongass National Forest; the Stikine Ice fields - the largest ice field on the Tongass National Forest; the world's largest spring concentration of bald eagles (up to 1500); and a major stopover on the Western Flyway with shorebird migration averaging 350,000 birds a day. The Stikine River is an 1871 Treaty River for commerce between the United States and Great Britain. Today, you can access the river by jet boat tour from Summit Charters in Wrangell, Alaska. The US/Canada border is 40 miles from Wrangell and Telegraph Creek, BC is 160 miles up river. Great Glacier and Iskut river are both in Canada. This is truly a unique area. CLICK HERE to see our slideshow.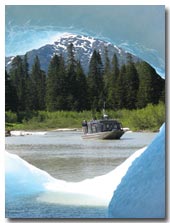 Points of interest for tours include:
Great Glacier
Iskut River
Telegraph Creek, BC
Shakes Glacier
Chief Shakes Hot Springs
Our private homestead
United States Forest Service offers several recreational cabins
The largest springtime population of Bald Eagles
Millions of migrating waterfowl
Huge Hooligan run
Peace, quiet and solitude
Summit Charters is an equal opportunity provider and is a permitted Outfitter/Guide on the Tongass National Forest and a portion of some tour activities take place on the Tongass National Forest. The Stikine River runs thru a portion of the Tongass. The Stikine River drainage and LeConte Glacier are in the Stikine/LeConte Wilderness.
Summit Charters follows and promotes leave-no-trace principles and practices which are based on these seven basic Principles of Leave No Trace:
Plan Ahead and Prepare
Travel and Camp on Durable Surfaces
Dispose of Waste Properly
Leave What You Find
Minimize Campfire Impacts
Respect Wildlife
Be Considerate of Other Visitors
Stikine River Tours to Shakes Lake and possibly Shakes Glacier (dependent on ice conditions)
Price: $250 plus city tax for the basic lower river tour, based on 8 person minimum or a boat rate for $325.00 per hour. This is a 3 to 4 hour trip.
Paddling the Stikine? Contact Summit Charters to schedule your haulback. Please call 907-874-2402 or Cell 907-305-0416 for further details.